Hidden Barcelona
Hidden away off the beaten tourist tracks, down little side streets, there are an infinite number of truly Barcelona recesses that people often know nothing about, even those who live here. Squares, cloisters, alleyways, walks and paths that belong to another era and evoke a Barcelona that, at first sight, appears not to exist: one that maintains the essence of the town or village that every city neighbourhood used to be.
Even in the most central ones, the old quarters like the Gòtic and the Ribera, you can find squares that do not even appear on tourist maps. And in the end, that is the essence of your trip: letting yourself be led by your intuition, zigzagging through streets that turn into mazes, to finally discover Barcelona belongs to locals and visitors in equal measure, and that it always, always keeps some little corners which let us really be ourselves, wherever we are from.
You will find places that kindly invite you into a quiet retreat, like the patio at the Convent de Sant Agustí, in Ciutat Vella, and squares full of life and people, cafes, restaurants and shops, where people live their lives every day, such as Plaça de la Vila de Gràcia. Or paths and walks that take you back to the city's medieval past, like the old Rec Comtal irrigation canal, through which the water that once supplied the city flowed. Pretty little corners too, such as Plaça de Prim, in the heart of Poblenou. If you leave your compass at home and wander round the city, you will find hundreds more that will captivate you.
more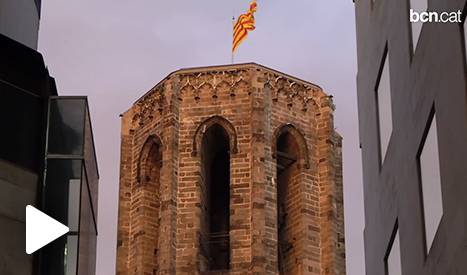 Súbete a la torre más alta de la Barcelona antigua
Silent cloisters and courtyards
Passages, lanes and alleyways
Plaça de Mons

Coming down from El Coll, and just before the Vallcarca Viaduct, you come to Plaça de Mons. It is a small, stone square. In fact it serves as a roundabout where the streets up to El Coll and those down to Putxet and Vallcarca start from. There are still a few Modernista mansions here as well as one in the rationalist style that stands out because it is shaped like a boat. The views of Barcelona from the viaduct, towards the sea and the hills, are exceptional.

La Satalia

Satalia is a neighbourhood within a neighbourhood: a small community in Poble-sec, separated by Passeig de l'Exposició. A neighbourhood the residents are proud of that climbs up Montjuïc, with steep streets and lots of steps. The 19th century houses still have their vegetable gardens and the backyards with their marvellous views. Very close by there is the Mirador de la Satalia, a 4,000 m2 viewpoint with benches, tables and a kiosk-restaurant.

Baixada de la Glòria

This is one of the streets most used by tourists who come to Barcelona, because it leads to Park Güell. It is called a baixada (downhill) but the truth is it goes up as much as it goes down. The slope is 35% and since the end of the last century it has had escalators, a typical feature of the neighbourhood, to make life easier for residents. When you reach the top it is worth stopping to catch your breath and enjoy the views of the city. They are breathtaking!
Montjuïc slides

At the foot of Montjuïc Castle, in Carrer dels Tarongers, there is a spot that conceals a pleasant surprise for young and old alike: two big slides with a steep gradient, right in the heart of nature. The descent is dizzying: if you are of a nervous disposition, you will have to brake before the end. Obviously, the views from there are spectacular.

Font de la Budellera

It is impressive. It is not for nothing that the Font de la Budellera is the most popular fountain of all those preserved in the Collserola Natural Park. Surrounded by perfect stone walls and lush vegetation, this is a very pretty and welcoming spot. The Budellera stream starts here and flows into the Vallvidrera gully. Highly recommended.

Mina Grott, Vallvidrera

The water that supplied Sarrià from the middle of the 19th to well into the 20th century came through the Mina Grott, a 1.5 km tunnel. An attraction was built there at the start of the last century known as Lake Valley, with an electric train that took passengers through the illuminated tunnel. It was a big success but closed in 1916. The Mina Grott is on the Vallvidrera Reservoir Path, a really beautiful spot.