Trade fairs and conferences
Barcelona: the leading city for trade fairs
Barcelona is a city that is perfectly equipped and prepared to hold large trade fairs, conferences and business conventions. Indeed, it is one of the leading cities in the world in terms of the number of international conferences and trade fairs held there. The numbers speak for themselves: fourth in the International Congress and Convention Association (ICCA) ranking and sixth in the ranking of the Union of International Associations (UIA).
Many multinational sector leaders choose Barcelona as the venue for their conferences and for presentations of their products. They value, above all, its charm, quality of life and tremendous energy. The conference sector is of the city's most important areas of activity and it stands out for its increasingly international focus: 90% of the business conventions organised in Barcelona are for European or North American companies, particularly in the medical/pharmaceutical, technological and industrial sectors. In terms of international conferences, the main economic sectors are those focused around medicine, science and technology.
Barcelona is a benchmark for trade-fair activities and it has two large venues: the historical one at Montjuïc and the more recent one on Gran Via. These two facilities come under the umbrella of Fira de Barcelona, a public-private institution that is nearly 100 years old. It organises and plays host to around 80 trade fairs and conferences covering a wide range of economic and business sectors, as well as social and corporate events, contributing over 2.5 billion euros a year to the city's economy. There is also the Palau de Congressos in the centre of Barcelona and two very modern facilities for holding international conferences have been added in the last few years: the International Convention Centre and the World Trade Center.
more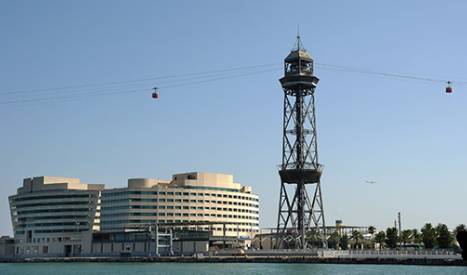 Built in 1932, Fira de Barcelona is one of the most important trade-fair institutions in Europe. It has two large sites, one at the foot of Montjuïc and the other on Gran Via, and a portfolio of over 70 trade fairs that play host to around 2.5 million visitors from over 200 countries. The most important trade fairs held there include the Mobile World Congress, Alimentaria, Smart City Expo World Congress, the Car Show and Hispack.
Palau de Congressos de Catalunya
Located at the financial heart of the city on Avinguda Diagonal, the Palau de Congressos de Catalunya symbolises Barcelona's contemporary architecture. Opened in 2001, it won the National Architecture Award. The Palau has 39 rooms and a large auditorium with capacity for over 2,000 people and it plays host to national and international conferences, cultural galas and social events.
Fira de Barcelona Gran Via venue
Designed by Toyo Ito from Japan, this is one of the largest and most modern fair venues in Europe, covering a gross area of 240,000m2. There are eight exhibition halls connected by a walkway, two heliports, 45 restaurants and one of the world's largest solar panels. The conference centre at the complex is a completely modular space that can accommodate between 3,000 and 12,000 people.

+ Fira de Barcelona Gran Via venue
Fira de Barcelona Montjuïc venue
Built in 1929 for the International Exhibition, Fira de Barcelona Montjuïc is considered one of the world's most iconic urban trade fair venues. It is located in Montjuïc park and covers a gross area of 134,000m2 spread across its six exhibition halls. One of these is the Barcelona Palau de Congressos, which has a large auditorium that holds 1,100 people and 11 independent conference rooms.

+ Fira de Barcelona Montjuïc venue
Barcelona International Convention Centre (CCIB)
The centre is made up of two architecturally significant buildings, which are connected by an underground corridor. The Catalan architect Josep Lluís Mateo designed the Convention Centre building, which was conceived to maximise the use of natural light. The Fòrum's Auditorium, designed by the Swiss architects Herzog & DeMeuron, with its majestic, 25m-high blue triangle, is one of the icons of modern Barcelona.
Surrounded by the sea and located right at the front of Port Vell, the World Trade Center Barcelona offers fantastic views for any kind of event. The Convention Centre has 4,000m2 of spaces that are versatile, flexible and equipped with the latest technology. Boasting an experienced team of people and a range of quality services, it is the ideal space for holding large events, inspiring workshops or a gala dinner overlooking the sea.
The Palau Sant Jordi is a multi-purpose venue built for the 1992 Olympic Games, and it is regarded as a masterpiece of contemporary architecture. The versatility of the facility has helped to make it a place where anything is possible. A venue for top-level sporting events, music performances, family shows and corporate events