The freshest markets in the neighbourhood
Barcelona has a network of municipal markets that is different to any other in Europe. This includes 39 food markets characterised by their fresh food, personal service, quality and variety.
These markets are spread round all the city neighbourhoods. There are also speciality markets, some unique and much loved like the Sant Antoni's Sunday Market and the Mercat de les Flors de la Rambla .
Barcelona is one of the few cities in the world that can claim to have a network of markets distributed in such a way that all the neighbourhoods have one close at hand. Besides contributing to people's quality of life by promoting a healthy, balanced diet, the city's markets are also looking to the future and introducing new services in line with the commercial needs of our time. Online shopping, home delivery, Wi-Fi hotspots, parking and an information point are some of the extra services that many Barcelona markets offer.
But, in looking to the future, the markets in Catalonia's capital are not forgetting about their past, because the buildings that house them reflect the city's history. Like so many others parts of its urban geography, the markets have reflected the changes and transformations it has experienced over the years. For example, they were prime candidates for the introduction of iron architecture and the Modernista style.
They have also followed the convulsions produced by the city's physical growth, either through the absorption of previously independent towns that often had a market of their own, or the construction of markets in the new, outlying neighbourhoods that sprang up with the arrival of successive waves of migrants.
Altogether that has given us a Barcelona with a dense network of markets: 39 food and 4 non-food (Encants, Dominical de Sant Antoni, Encants de Sant Antoni and Flors de la Rambla) plus the craft fairs and markets held in the streets and squares of lots of neighbourhoods. They are places where you can buy practically anything, as well as meeting points for local people. And all of them are facing the future determined to carry on playing a prominent role in the life of the city.
more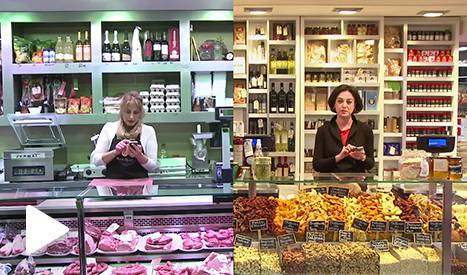 MercatsBCN, la nova app dels Mercats de Barcelona