Business Support Office (OAE)
The Business Support Office (OAE) is the best gateway to Barcelona and its metropolitan area for new businesses.
A business city
The OAE was created by Barcelona City Council through Barcelona Activa. It aims to improve the competitiveness of the economy and business framework in Barcelona and its metropolitan area and to make it easier for new companies to set up there.
The OAE draws a series of services and resources together into a single space to respond to the needs of local and international companies. It offers customised advice on all aspects of creating a new company: methods of financing, talent hunting, internationalising business and everything about municipal procedures relating to business activity. The OAE also organises training sessions and promotes networking amongst its users, who are professionals.
The OAE is located at the MediaTIC Building, in the 22@ technological district. It aims to boost the city's economy to create new high-quality jobs and support the establishment of new companies linked to emerging economic sectors of the future, such as new technologies.
more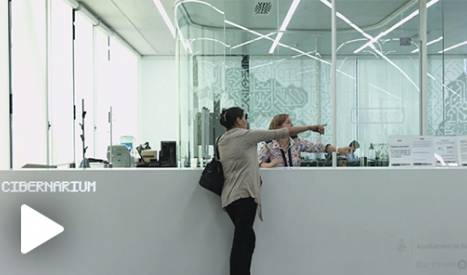 Business Support Office
Barcelona Landing Services

A whole range of services both for entrepreneurs living abroad and foreign companies looking to invest in Barcelona.

Business financing

Expert advisory service to obtain the financing your business needs.

Prototyping and Innovation

The Prototyping Support Service guides companies and entrepreneurs through their prototyping processes in a strategic and agile way.

Constitution of companies

The OAE processes the registration of new commercial corporations and freelance professionals. Its website also offers online advice.

Information and municipal procedures

Service providing information about the regulations to be followed when setting up a company in Barcelona. Barcelona City Council's Virtual Office also offers this kind of advice.

Business transfer

The OAE advises business people who want to transfer their business and entrepreneurs who need to ensure their company's continuity. There is also a web portal where offers and requests can be published.

Localisation

Whether the company is local or international, the OAE helps find the best sites for setting up brand-new businesses, and Barcelona Activa also offers its own sites.

Business advice

Companies that want to open up new markets and become more competitive can go to the OAE, which has a technical team to design strategic growth plans.

Internationalisation and foreign commerce procedures

The OAE offers expert advice on foreign business opportunities for companies that want to start exporting and expanding at an international level.

Talent management

The OAE has various programmes to help find people with the professional profile that each company needs. It also offers information about subsidies and recruitment assistance.

Business financing

The OAE helps find the most appropriate financing for each business: public, private and bank financing, as well as alternative sources such as crowdfunding. It also offers specific training sessions.

Espai Barcelona

This is a co-working space at the Barcelona Growth Centre where you can give presentations to clients and hold corporate meetings in an innovative environment that puts the emphasis on audiovisual technologies: Espai Barcelona.