Creative activities brought Barcelona over 123,000 jobs in 2016, representing 12% of employment in the city and half (49%) of creative jobs in Catalonia.
The main objective of artistic courses is to provide students with high-quality training to ensure that future professionals qualify in various artistic fields.
These are divided into four branches: music, plastic arts and design, dance and dramatic art, although it is also worth noting that three other specialities, the creation of video games, cinema audiovisual studies and circus training, are also becoming more popular in Barcelona.
Depending on the branch they choose, students can obtain access to intermediate and advanced professional training, advanced education (certified qualifications equivalent to a university degree), integral courses, etc.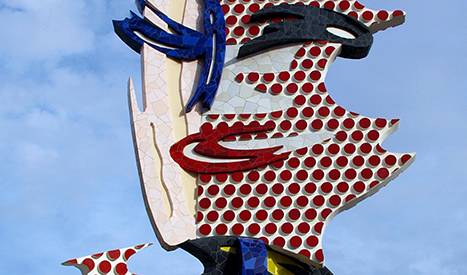 Music courses
Dedicating oneself to music is no easy matter; you need a lot of passion and dedication from an early age, as well as great professionals as guides, who know how to transmit these values.
The Liceu Conservatory

With 175 years of history, it has received numerous prizes, such as the European Excellence Award. With a total surface area of 10,000 square metres and 90 soundproof classrooms, among other exclusive facilities, it is home to musicians from all over the world, something that has become a distinctive feature of the Liceu.

Higher School of Cinema and the Audiovisual Arts Music of Catalonia

Its 40,000 square metres of floor space provide the ideal instruments and facilities for top quality teaching. ESMUC, located near the Auditori and the Music Museum, offers the Advanced Music Certificate course, as well as a series of Masters and postgraduate courses.

Barcelona Municipal Conservatory of Music

This public centre helps develop a participatory relationship between the public and music through amateur and professional training, the creation and programming of artistic ideas, and reflection between professionals.

Taller de músics

Since it was set up, the Taller de Músics Private Foundation has carried out its founding objectives to promote the teaching, interpretation and diffusion of contemporary popular music: jazz, flamenco, rock, etc.
Plastic arts and design courses
These include graphic design, interior design, product design and fashion design, as well as the conservation and restoration of cultural assets (graphic documents, sculptures, archaeology and paintings).
Institut del Teatre

The Institut del Teatre's Dance Conservatory offers a higher qualification in Dance, equivalent to a university degree, in two ways: Pedagogy of dance and dance choreography and performance techniques.
Institut del Teatre

The Institut del Teatre offers different specialisations, including stage design, performance and direction & play writing, as well as a Masters in Theatre Studies (MUET) as a consequence of an agreement between the Institut, the UAB, the UPC and the UPF.
Cinema and Audiovisual courses
A lot of creative minds have graduated from Barcelona's cinema schools. They have won a large number of awards and recognition.
ESCAC

Attached to the UB, ESCAC offers a degree course in Cinema and Audiovisual Media and a Masters in Cinematography, along with other Masters courses. Various students, including J. A. Bayona, have won prizes, such as the Goya awards.

ECIB

The Barcelona Cinema School has over 1,000 square metres dedicated to the teaching of its degree and Masters courses in three cinematographic disciplines: fiction, documentaries and animation. It also has its own production company, 2mentes, to provide an outlet for its students' projects.
Circus courses
Although there has been an increase in the demand for circus training, these courses are still not regulated or recognised by the Spanish Ministry of Education.
APCC

The Association of Circus Professionals in Catalonia (APCC) offers a network of centres, community centres, etc, that teach courses related to the circus world. This is because the circus has increased its presence in the world of performing arts.

Escola Rogelio Rivel

This school offers 2-year courses that are equivalent to preparatory vocational education. The obligatory techniques are acrobatics, trampoline, vertical exercises, dance and theatre, although the programme also includes other artistic activities

La Central del Circ

This centre offers continual training for circus professionals. The courses are taught by top artists who give classes throughout Europe and have had a long career in the world of circus research and pedagogy.
Courses in 3D animation
There is an increasing demand for multimedia engineers, with training in both design and technology, for programming and designing video games. A market which is making a strong breakthrough in Barcelona.