Getting to Barcelona by bus
You can easily get to Barcelona by bus from anywhere in Europe, North Africa and the rest of Spain. Barcelona Nord is the city's main bus station, with national and international connections, but buses also go to Barcelona Sants and elsewhere in the city.

Barcelona Nord
This is the city's main bus station. Services linking Barcelona with Europe, North Africa and other parts of Spain all leave from here. The station offers a number of services, including a Tourist Information Office, luggage lockers and a foreign exchange bureau.
Address: C. d'Alí Bei, 80
How to get there: <M> L1 Bus: 6, 40, 42, 54, 141 and V21
Opening times: Mon-Sat, 5.15 am to 1 am
Tel: 902 260 606 (7 am to 9 pm)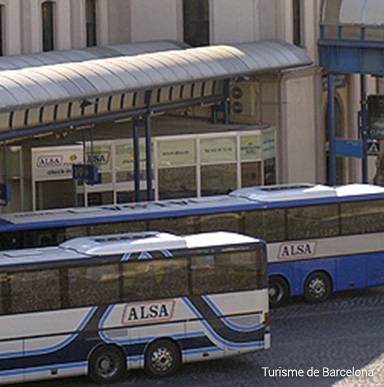 Barcelona Sants
The bus station is next to the train station building. Several companies operate services to Spain and abroad from here. Tickets must be bought at the ticket office.
Address: C. de Viriat, 33 (next to the train station).
How to get there: <M> L3 and L5 Bus: 27, 32, 78, 109, 115, H10 and V7
Opening times: Mon-Sat, 6 am to 12 am / Sun, 6 am to 11 pm
Tel: 933 674 400 (Mon-Fri, 9 am to 6 pm)