Meet Barcelona
A space for everyone keen to discover Barcelona
MWC, a leading world event

Barcelona will be the mobile world capital from 2 to 5 March.

Prototyping, where we accelerate innovation

A new platform for strengthening assets in Barcelona aimed at public and business innovation which connects them together and turns them into a true testing ground

Barcelona, a capital that inspires

Innovation, creativity, business and plenty more. Be inspired!

DHUB, design and creativity

The Barcelona Design Hub building, in the new Plaça de les Glòries, is another city icon.

Agenda 500, the city's most important events

If you're bored in Barcelona it's because you want to be. Discover it through this selection of activities of every kind.
The keys to Barcelona today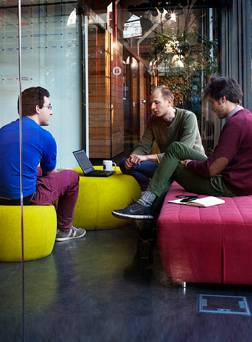 Why invest in Barcelona?
Discover the excitement of the city's events
The 10 districts

What to visit in each of Barcelona's neighbourhoods

Creative Barcelona

The web of inspiration, innovation and creation

30 concerts in Barcelona

16 Banc Sabadell Festival Mil·lenni

The best Scandinavian music

The Auditori looks north with Viking Music BCN