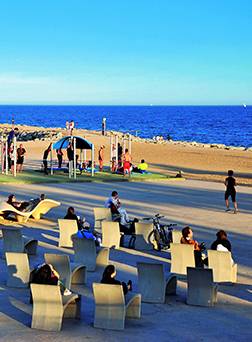 Beaches
Practical information
Discover the excitement of the citys events
Be surprised!

Check out everything going on

Come along to the festival!

DocsBarcelona is back!

Check out the full #docsbcn programme

Getaways to Catalonia Market

Come over and make your getaway!

Festival Orgànic is back, on 27 and 28 May

Join in the well-being and philosophy of conscientious living

From 19 to 28 May

Ten days of the best in flamenco in Barcelona

Barcelona Science Festival

Don't miss out on the BCN Maker Faire!

100% creativity and technology!

Tast a la Rambla

8-11 June

Come along to the Botanical Gardens

You will find every aspect of the world's Mediterraneans

"Estima el teu mercat"

International Markets Week. From 15 to 31 May

World Press Photo 2017

Exhibition on at the CCCB until 5 June

Discover Guia BCN

Activities, courses, institutions and facilities.

25th anniversary of BCN '92

Guitar Bcn 2017

The best music in the city

#BcnCiutatRefugi

Discover all we are doing.