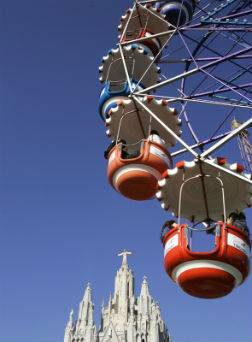 Amusement parks
Discover the excitement of the city's events
You're Barcelona

October 22nd at Museu Marítim de Barcelona

It's a fair, it's sweet, it's a show

23–26 Oct Fira Barcelona - Recinte Gran Via

We have technological alternatives

Information sovereignty at your fingertips

Long live jazz! Long live festival!

From 20 October to 21 December!

Huellas. Humberto Rivas

20 October 2016 to 8 April 2017

5th Solidarity Economy Fair

21, 22 and 23 October in Fabra & Coats​

Primavera Club

Primavera Club 2016. 21, 22 and 23 October

A festival with a heart

Solidarity concerts in the Liceu Foyer

How does pollution affect your health?

#querespiresquanrespires

Until 15th of novembre

Enjoy a good meal for a good cause

The fifth Edition of the cycle has arrived

13 music offerings in a variety of styles

Your domain

The domain that identifies you with the city

Come to the Sala Ciutat!

Discover its new illustrations

#BcnCiutatRefugi

Discover all we are doing.

Discover Guia BCN

Activities, courses, institutions and facilities.